Small towns are a common location in Australian cinema, see The Dressmaker, The Year My Voice Broke, and The Dish. The concept of an insular, secretive town fearing those who are different is a central theme in Jasper Jones, one of the best Australian films I've seen in recent years. It's 1969 in the fictional rural town of Corrigan, and a local teenage girl is found dead in the bush.
Introverted, bookish thirteen year old, Charlie (Levi Miller) is recruited by Jasper Jones (Aaron McGrath) to solve the mystery; if they can't figure it out, Jasper – an Indigenous teen who is the myopic town's regular scapegoat – will surely be charged with the crime. Meanwhile, Charlie tries to continue his life as normal: awkwardly wooing Eliza, the missing girl's sister (Angourie Rice), mucking about with his friend Jeffrey (Kevin Long), and ignoring the fact that his parent's marriage isn't what it used to be.
While the leads are all young teenagers, this is by no means a children's story. From the opening moments the audience is confronted with a dark story about death, racial injustice, secrets and fractured family relationships.
Adapting the Novel
Director Rachel Perkins has done an excellent job in adapting the novel, a modern Australian classic by Craig Silvey. The serious themes do not overwhelm the narrative, as could have happened. Instead Perkins balances out the story with some lovely light-hearted moments. One of these is the famous cricket match where Jeffrey, the ostracised Vietnamese boy, temporarily becomes the town hero in a fantastic defeat over the rival team. Similarly, the score by Antony Partos nicely dictates the audience's emotional reaction without forcing it, providing a good range of light and dark moments.
Through Mark Wareham's cinematography, Perkins draws your attention to things without making them too obvious. A lot of important facts are conveyed through small details that require you to pay attention: A small folded note in the pages of a book, the hateful looks directed at the Vietnamese family, a cutaway show of Jasper Jones being violently apprehended by the police.
Analysis of Performances
Aaron McGrath is a likeable, sympathetic Jasper Jones. His authentic portrayal of grief and being victimised makes us pity him and bemoan racial injustice. Angourie Rice, fresh from her impressive turn as precocious youngster in The Nice Guys, is very good here. She never seems like she's faking it which, although may seem like a basic criticism, is pretty impressive in a young actor. She's established herself to be one of the most impressive young actors working today.
In contrast, Levi Miller is unfortunately one of the most overrated young actors of our time. His leading roles in Pan, Red Dog: True Blue, and Jasper Jones have proven to me his lack of talent. He speaks like someone trying to 'act', like a child doing a speech he just learnt in drama class.
The rest of the cast is excellent, assembling some veterans of Australian stage and screen. Hugo Weaving is a pitiable figure as the town outsider – a curmudgeonly Boo Radley. It's great to see Toni Colette returning to Australian cinema after her success in America with such an interesting, complicated character. Her turn as the unhappy, long-suffering but loving mother is painfully real. Dan Wylie is an intriguing stoic presence – we never find out exactly what went wrong in their relationship, we're just left to witness the fallout.
Racism in Rural Australia
While this is a film undeniably focused on racial injustice, it doesn't reduce it to a black and white issue. We are encouraged to feel sympathy for the victims, Jasper and Jeffrey, but are led to have a more ambiguous attitude towards the perpetrators.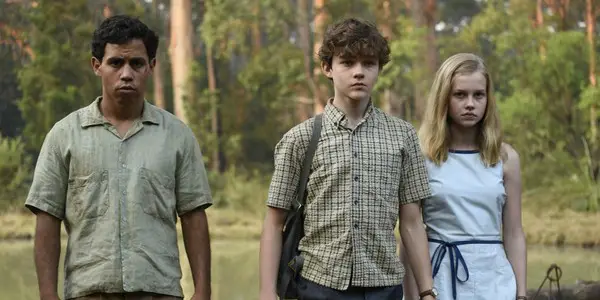 For instance, we're first introduced to the Vietnam War through the perspective of a mourning mother who just lost her conscripted child. We sympathise with her, and understand her misguided anger at Jeffrey's family. This is in contrast to Jocelyn Morehouse's The Dressmaker where there's a clear divide between the 'good' and 'bad' characters, and the intolerant are strictly condemned.
Conclusion
Jasper Jones a loaded film that does well to cover some broad subject matters in an hour and forty five minutes, traversing many genres, from the 'coming of age film' to murder mystery. It is cramming alot of themes in here, and subsequently doesn't address racism in any complex way beyond proclaiming it as 'bad'. Nonetheless, the performances and script allow it to bound along with enough momentum that we all enjoy this well-made story about discovery, injustice and courage.
What is your favourite Australian film?
This review was originally posted at FilmInquiry.com 
Jo Bradley.