As we here at Film Inquiry begin to branch off into the world of television, and with the 70th Primetime Emmy Awards just around the corner (September 17 if you haven't already penciled it into your diary), it seems like the perfect time for some of the team to assemble to discuss why our favourite of this year's Emmy nominees deserves to walk home with an award in tow next month.
In this, the first television edition of Staff Inquiry, we'll try to persuade you why our choice is the cream of the crop and how they have convinced us that they deserve an award to certify their brilliance.
Jo Bradley – Evan Rachel Wood, Westworld
In an interview with Seth Meyers, Evan Rachel Wood once called working on Westworld 'The Acting Olympics", and anyone familiar with her performance on the show would know that she's not wrong. For those unfamiliar with the show (and if you are, what have you been doing with your life?) Westworld is a sci-fi drama set in an adult amusement park. In this park, wealthy guests pay to live as cowboys in a replica of the Wild Wild West, accompanied by thousands of lifelike robots, known as hosts.
Wood plays one such host. Her character Dolores is initially programmed to be the beautiful, meek, kind-hearted Rancher's daughter. However, the robotic nature of the hosts means that the very essence of this 'character' is dynamic and ever-changing. As the show progresses, and various hosts begin to "wake up" and gain consciousness, Dolores' character and Wood's performance, change in exciting and unexpected ways.
Every episode, Wood delivers a masterclass in acting through the utterly convincing way that she embodies a robotic host. As the hosts operate on voice commands issued by the park's employees, Wood is often required to go from an intense emotional moment like a panic attack, to an emotionless robotic state of 'analysis' mode. These scenes performed by a lesser actor could have been painfully overdone, but in Wood's highly capable hands are compelling in their restraint.
Not only is Evan Rachel Wood an acting force in her own right, but her ability to hold the audience's attention when sharing the screen with acting heavyweights like Anthony Hopkins and Ed Harris makes her all the more deserving of this year's Best Lead Actress Emmy.
Stephanie Archer – Jason Bateman, Ozark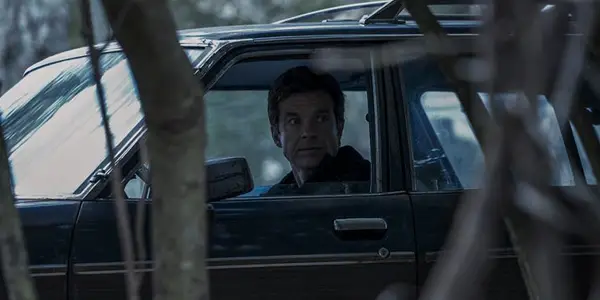 Jason Bateman may at times continue to reflect past roles in current performances, yet the material he is able to encompass reaches a wide breadth of content and genres. The subtle manipulation of a well developed acting style is what make Bateman a stand out talent. Little tweaks immersed into a multitude of environments allows his central style to mould and adapt effectively, captivating the audience at hand not only into his role but the story that surrounds him.
With Ozark, his awkward and out of place demeanour are a perfect match for a family man whose corrupt blue collar crimes lead him deeper into the world of drugs, money laundering, murder and territorial negotiations. He brings a high degree of verisimilitude to his character that allows the out of place nature of events and aura of his character to be believable and mesmerizing, bringing the intense situations of Ozark to a maximum edge-of-your seat experience.
Unlike previous characters of similar genres (i.e. Heisenberg, Tony Soprano, Saul Goodman), his character is not as savvy and quick-witted, stumbling through his attempt at rectifying his financial shortcomings with his kingpin boss. Yet, it is this break from an expected character that makes Bateman's take on blue collar crime so refreshing and engaging. The series begins with the crumbling of his financial institution that hid the money of his crime boss, and he fails to ever truly regain his own footing. It was the perfect role for Bateman, and truly only one he could have encompassed.
Compounding his fraught performance and Emmy nomination, Bateman has also been nominated for Outstanding Directing for a Drama for Ozark's season finale The Toll, proving that his dedication to character and story goes beyond his outstanding performance on screen.
Emily Wheeler – Claire Foy, The Crown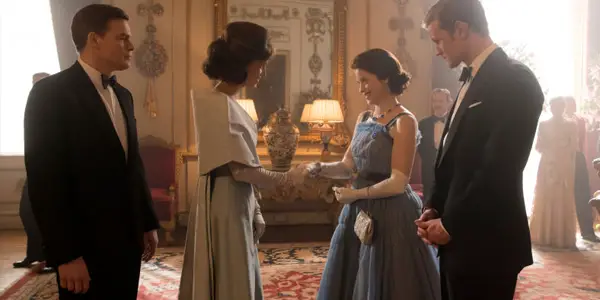 When it comes to awards shows, few subjects attract as much attention as royalty. The British monarchy is particularly prone to accolades, so it's hardly a surprise that the sumptuous Netflix drama The Crown racks up trophies and nominations. That might make nonviewers think Claire Foy skated into a nomination just for playing Queen Elizabeth II, but the reality is that she turned in one of the most controlled, nuanced performances of the year.
The series is as much concerned with iconography as it is any individual player, continuously calling attention to the restrictions and lack of power given to monarchs in the modern age. Foy's role required her to navigate being a woman in power at a time when this was still uncommon, but it also needed her to acquiesce to her character's personal limitations. The second season saw her in a more established place, with the security to go right up to the line of what she could do as a queen, a wife, and a mother.
For all the showiness of the series' costumes and sets, Foy never attempted to overshadow the accoutrement. She showed a deft understanding of her place within the series, leaning as much on the formalities, and yes, the occasional crown, to show the Queen's forcefulness. Her performance is a series of head tilts, wide eyes, and fretful ticks, all of which conveyed in the smallest ways the huge barriers before her character. It's a masterful example of giving precisely what the project needed, never shortchanging or overplaying the woman at its center.
Kyle Kizu – Ed Harris, Westworld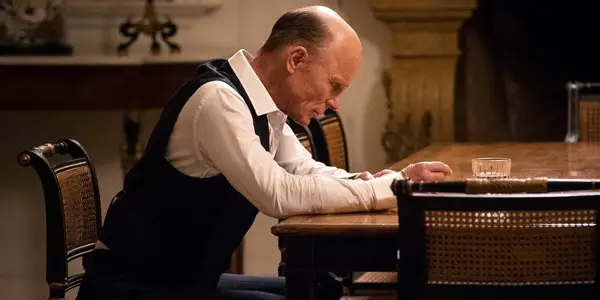 Nathan Osborne – Tatiana Maslany, Orphan Black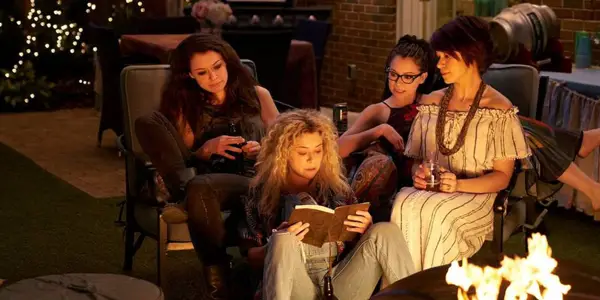 Tatiana Maslany's talent seemingly knows no bounds, with the Canadian actress earning her third Emmy nomination in the category for her multiple roles on BBC America's Orphan Black. Returning to the ceremony for the first time after her win in 2016 (due to the series fifth and final series falling outside the 2017 eligibility period), Maslany delivered some of her very best work in the concluding chapter of the clone show, which wrapped up over a year ago: that her performance(s) are still being remembered by voters, despite little in the way of promotion or campaigning, is the truest testament to her brilliance.
The thing about Maslany's work on the show is that just one of her performances would be award-worthy; but that she manages to play Sarah, Cosima, Helena, Rachel, Alison, Krystal and many more with such skill, technical precision and mesmerising ingenuity is mind-blowing, and should not be taken for granted. To Right The Wrongs of Many – the episode for which she earns her nomination – contains multiple-clone scenes of the sisters constantly interacting with each other, dual pregnancies brimming with intensity and catharsis and rousing speeches of survival, defiance, unity and evolution – and that's only scratching the surface of the series finale alone. Much like the entire show's run, Maslany never puts a foot wrong, with every ounce of emotion, power, poise, dedication and craft she possesses so lovingly poured into this final collection of performances to clear, incomparable in their effect.
Of course, none of it would be possible without the special effects team, writers, editors, directors, body double (shoutout to the astonishing Kathryn Alexandre for frequently enhancing Maslany's efforts so richly, to little recognition) and general crew – but the heart and soul of Orphan Black lies with Maslany and the galaxy of women she embodies so impressively and effortlessly. No one on television would dare attempt what Maslany succeeds with so extraordinarily, always with such careful consideration and masterful flair; she truly has redefined the idea of a multi-role performance and so very few have come close to recreating the brilliance of Orphan Black's LEDA clones, be that in film or television. It's a performance for the ages; no wonder she was known as television's hardest worker.
What Orphan Black lacks in scale and rating popularity compared to its competitors, Maslanymakes up for with her talent and towers over the competition, despite what I consider to be one of the strongest acting line-ups yet. Orphan Black may be over but its legacy – its introduction of the world to Tatiana Maslany, one of the finest actors to grace our screen – will endure.
Kristy Strouse – Elisabeth Moss, The Handmaid's Tale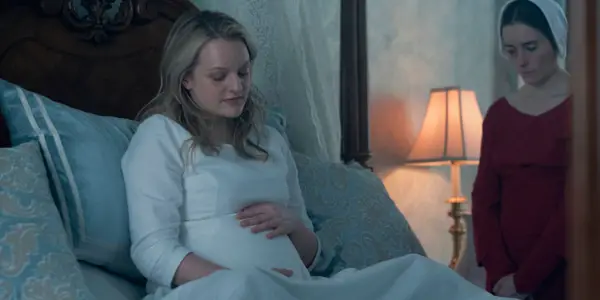 Elisabeth Moss is no stranger to television, nor to portraying a female in a male-dominated world, and as we saw in Mad Men, she knows how to stand out.
In the two seasons of Handmaids Tale, despite an engaging (though disturbing) story, and several top-tier performances, Elisabeth Moss steals every scene she's in. For a show as popular and critically revered as this, that's saying something. In season two June (Moss), goes through some harrowing trials, as all of the women do, and here she is truly tested.
While the second season might not be as sharp as the first, her performance soars. She won the Emmy last year, and there are several deserving women this year, but that does not reason alone to disregard her phenomenal work. This season she had some of her most shining moments.
She offers a restrained portrayal, and when we see her burst free from her emotional prison, she's heartbreaking. Her resiliency is a big part of this show, and her silent strength is a comfort.
Consider the episode "Holly" where she's alone almost the entire time, stranded in a home on the precipice of giving birth. She's considering escaping, with wolves at her door (literally) and we see Elisabeth convey a full range of depth, shotgun in hand, fierce. And when she does have the baby? It's an unforgettable scene.
There's an honesty with her that's undeniable, and she does a lot even without speaking. Elisabeth Moss's June (purposely choosing not to refer to her by her Gilead name) is the heart of The Handmaids Tale, embodying a strong woman, a relentless mother, and a spirited human who yearns to be free. Her subtleness, and her fight, make her nearly unbeatable as long as she plays June. It isn't about if she should win, but instead… how can she not?
Tessa Bahoosh – Sandra Oh, Killing Eve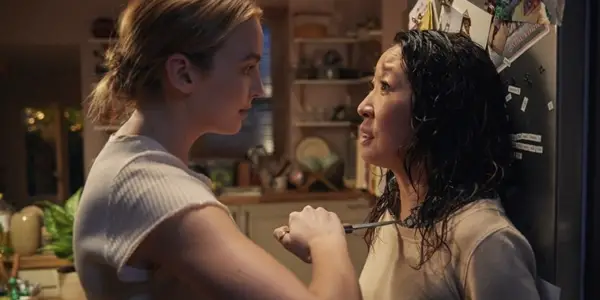 In situations like these, where an already long-established but relatively underutilized artist is nominated for a major award, it's difficult not to think of that award as an opportunity to grant the artist some of the backlogged commendation they have already proven themselves to deserve. I think of Leonardo DiCaprio and the swell of support around his Oscar win for The Revenant—not necessarily his best or even most popular work, but it hardly seemed to matter. What mattered was that Leonardo DiCaprio was winning, at last.
Make no mistake; playing Eve Polastri, a Military Intelligence officer obsessed with tracking down a charismatic female assassin, is absolutely the work for which Sandra Oh should win an Emmy. She is at her best, delivering a fine, nuanced performance that imbues each line with multiple layers of potential meaning.
So long relegated to supporting roles, Oh has clearly taken her position as lead extremely seriously, and it's heartening to see the Television Academy doing the same. This is Oh's sixth Emmy nomination (she has been nominated in the Supporting Actress category for her role in Grey's Anatomy five times), but it is also the very first nomination in the category for an actor of Asian descent. That's not the reason Oh should win, but it does give pause. We are talking about an actress who has received critical praise since her 1994 big screen debut, and while that might not mean the Academy inherently owes her something, it's evident that her role in Killing Eve reflects twenty-four years of consistent, conscious work.
Award shows should exist to acknowledge and honor peak work from artists who have honed their craft tirelessly, and this is exactly what Oh does on Killing Eve. She manages something remarkable with her character, introducing a rationality to what might otherwise be irrational behavior. This works because we understand Eve's interior, guided so efficaciously through her fears, her responses to unexpected events, and her self-conceptualization.
There's a wonderful moment when Eve attempts to explain her fascination with her counterpart, Villanelle. Oh's delivery of these lines contains so many layers of implication, we gain a new understanding of the divide between her conscious and subconscious motivations. She lists her points of fascination with unfocused eyes, drawing out the words with what might be self-deprecation, frustration, or a confession of something tacitly erotic (a supposition that is, in one of these rare cases, supported within the text). It's a brilliant moment, and not even Oh's best.
Leonardo DiCaprio's big screen debut was in 1993, and Sandra Oh's came the year after. They are different artists, working largely in different forms, and it's not completely honest to draw a linear comparison. All the same, it's hard to shake the sense that if everything was fair, there would be another groundswell of popular support around Oh this season. But then, if everything was fair, it's equally hard to imagine that this Emmy would be her first.
Frazer MacDonald – Keri Russell, The Americans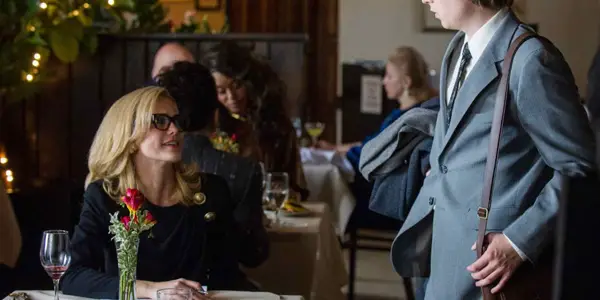 If you're a TV fan, you'll most likely know that the Emmys are coming up. Many people are nominated, of course, one of who is Keri Russell, and in this article I'll talk about why she should be the winner (she's nominated for Outstanding Lead Actress in a Drama Series).
First off, I guess it's important to say that I love The Americans. It's one of my favourite TV programs, and that is partly because the writing good, but of all the TV shows I've seen recently, The Americansis the only one that's truly bolstered by its cast. Keri Russell and Matthew Rhys are at the forefront of it all. Although in quality I think their performances are about the same, in this one I want to discuss her.
The role requires a tough balancing act on behalf of her. For those who haven't seen it, Keri Russell plays a mother, but also a spy, and that involves juggling two kinds of personalities—one being a sensitive, caring person, the other a cold and hard-hearted one. But of course, as is tradition, nothing is ever that simple and the two worlds start to blur. Even in our current era, it's a rarity for TV, but Elizabeth (Keri Russell's character) actually takes on a more patriarchal role than her husband. Pretty much from the get-go it's established that Elizabeth has had to be tough from a young age in ways that Philip hasn't, and as a result of that, she's uncompromising until she's forced not to be, and is the one who holds the family together.
A lot of the material is written into the script, but of course, it's an actors job to bring that script to life, and to add dimensions to it through interpretation, and that's exactly what Keri Russell does. There is a certain amount of emotional strength written into the role, but Keri Russell transforms it from the side-act to the star of the show. In some ways, I think the mark of a good script is one that allows room for it to be played around with, but a good script is nothing without a good actor, and Keri Russell is proof of that.
Which nominee are you hoping to pick up gold on September 17th?
( This article was written in collaboration with the writers of Film Inquiry. The original article can be found here.)