Today I'm setting a new record. Every year, I write about my top ten films of the year and I typically don't get my article posted until maybe January or even February.
I'm ashamed to admit that today is the day I finally post my countdown of the best movies of 2018. Yes, it's 9 months late, but what do they say about being better late than never?
10. Set It Up
Coming in at number 10 we have Set it Up, a charming rom-com about two over-worked PA's who decide to set up their high-powered bosses so they will be nicer to their assistants.
9. Avengers: Infinity War
At number 9 we have Avengers: Infinity War, an unexpectedly devastating superhero film that brings all the favourite characters of the Marvel cinematic universe together for the fight of their lives.
8. Widows
Next at number 8 we have Widows, a seriously underrated heist movie that sees a group of widows in debt, forced to finish the robbery that their criminal husbands started before their tragic deaths.
7. Vox Lux
At number 7 we have Vox Lux, a polarising film about Celeste, young girl who became an unlikely pop star in the wake of a school shooting and struggles to deal with the toxicity of mega-fame. Raffey Cassidy and Natalie Portman are both incredible as the young and old Celeste.
6. Ocean's 8
For Number 6, its Ocean's 8. A fun heist movie with an all-star cast of charismatic ladies having a blast; Ocean's 8 is a stylish follow-up that captures the spirit of the original trilogy while still doing its own thing.
And now, to our top 5! This was particularly hard for me to decide on because the standard here is so high.
5. The Favourite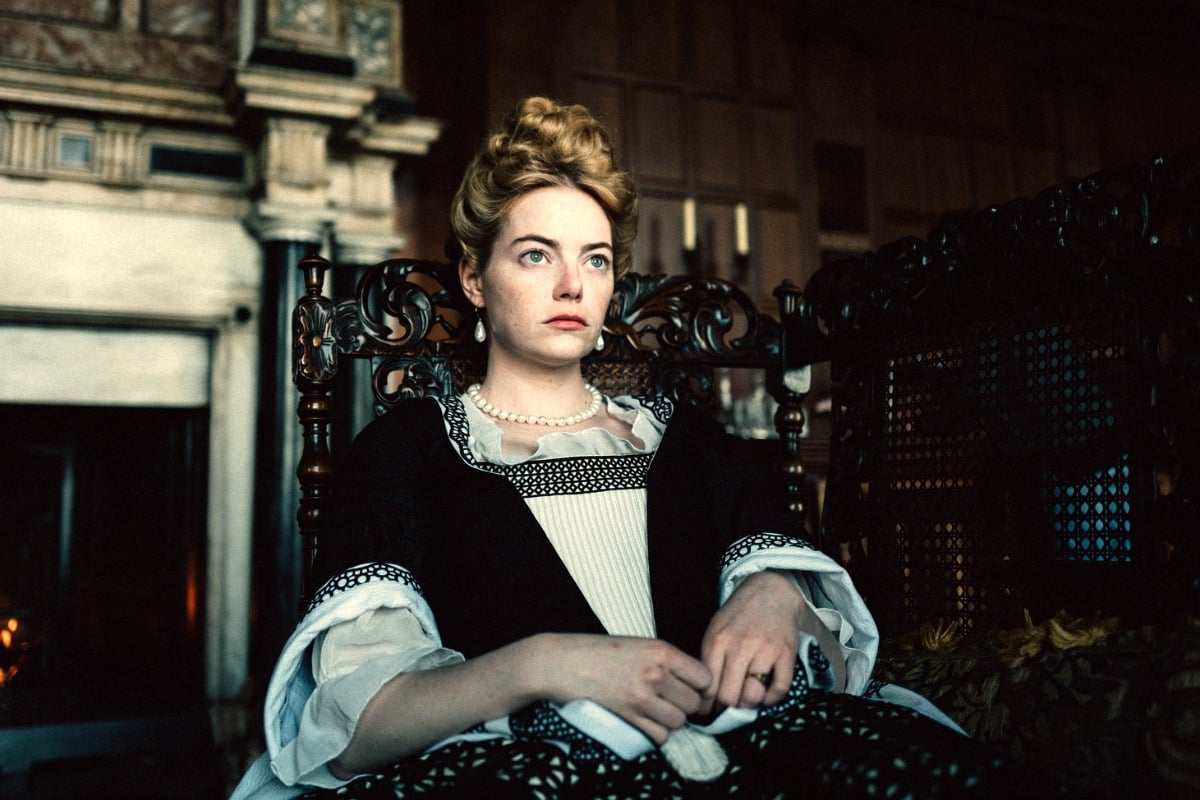 At 5, we have The Favourite, an absurd comedy about two women, Emma Stone and Rachel Weisz fighting over the attention of Queen Anne in 18th century England. Helmed by acclaimed Greek director Yorgos Lanthimos, known for his eccentric and dark filmmaking style, the film tied with Roma as the most nominated movie at the 2019 Oscars. Stone, Weisz and lead Olivia Colman were all nominated for various acting awards, it was Colman who took home the top award at the 2018 Oscars, delivering a hilarious and charming speech.
4. The Death of Stalin
In fourth place, it's The Death of Stalin, undoubtably the funniest film of 2018. Written and Directed by Armando Iannucci, the creator of Veep, the film is a satirical black comedy about the chaotic political power struggle that followed the death of Revolutionary Joseph Stalin in 1953. The combination of a very witty script, and the hilarious performances by Steve Buscemi, Simon Russell Beale, Jason Isaacs, Michael Palin and Jeffrey Tambor make this movie an unmissable comic delight.
3. Searching
At Number 3 we have Searching, an unconventional thriller that takes place entirely on a computer screen, by the same production company that brought you Unfriended. When his teenage daughter goes missing, single dad David, John Cho, goes to desperate lengths to try and find her, using her laptop to try and track her digital footprint. When the story hits the media, everyone's got an opinion. Did he kill her? Did she run away? Was it suicide? Written and directed by 25 year old Aneesh Chaganty, the film cleverly frames the story so we know just as much as David, and therefore we discover the films secrets at the same time he does. The computer screen format is an engaging and unique style that distinguishes Searching from the normal crime thriller. Filled with genuinely shocking twists that I did not see coming, Searching is a tense thriller that you've got to see.
2. Black Panther
Finally, at an incredibly close second place, is Black Panther, the first black-led superhero movie in the MCU and one of the best movies marvel has made. Written and directed by Ryan Coogler, the man behind Fruitvale Station and Creed, it feels like a very modern story, about the obligations of the wealthy and privileged to help the less fortunate. It's also one of the few times in superhero movies that the villain, played with heart and charm by Michael B Jordan, has understandable and justifiable motivations, making the conflict between him and Chadwick Boseman's T'Challa all the more interesting. The supporting case of powerful, unique and interesting female characters, played by Lupita Nyong'o, Danai Gurira, Letitia Wright and Angela Bassett, are strides ahead of the usual stereotypical regressive women in superhero movies. With Oscar Winning music, production and costume design, and a Kendrick Lamar soundtrack that pulls no punches, this film is well deserving of all its critical praise. I can't wait to see what Coogler does with Black Panther 2.
1. A Quiet Place
And at my number one film of 2018, it's A Quiet Place.  As a filmgoer who has actively avoided horror my entire life, no one is more surprised than me that this made the top spot. Years of hiding under my doona as my boarding school roommates watched The Exorcist and every Paranormal Activity movie taught me that: Horror? Not my thing.
But the excellent reviews kept pouring in and after seeing the 95% Rotten Tomatoes score, I was finally persuaded. And boy was it worth it.
In a post-apocalyptic world overrun with man-eating aliens that hunt through sound, one family is surviving in an isolated rural farmhouse. Emily Blunt, continuing to prove herself as one of the most versatile actors working today, is utterly compelling as a pregnant wife playing opposite real life husband, actor and director John Krasinski. Millicent Simmonds (hearing impaired in real life), steals the show as the couple's deaf daughter, a character trait that adds a lot of depth and tension to this story.
The use of sound mixing, and editing is truly impressive. Nothing beats the feeling of a full cinema, dead silent as everybody holds their breath in suspense.
A Quiet Place was so good, it made me break my 20-year long ban on horror movies. You do not want to miss it.
So there it is! My top ten films of 2018! Did I miss anything? Let me know in the comments and stay tuned for my next video!
Jo Bradley